Orange Shoe
Personal Trainers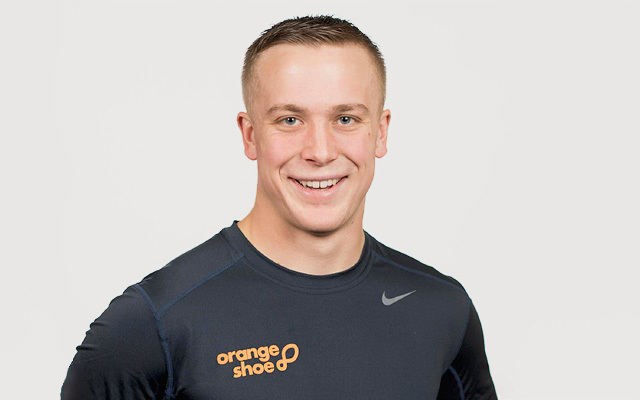 Colton Susen
BS,NSCA- CPT | Fitness Professional
Madison Downtown Personal Trainer
About
Colton is a graduate of the University of Wisconsin-La Crosse with a bachelor's degree in Exercise Science with an emphasis in fitness and concentration in Coaching Competitive Athletics. Colton's passion for fitness roots from his experiences as a high school athlete and continues to progress with his knowledge in the industry and desire to always be learning. Colton frequently reads and researches for new fun and exciting ways to work out to keep things interesting.
Colton's fitness training experiences began while he was an undergraduate student, engaging in personal training early in his academic career. Before coming to Orange Shoe, Colton personal trained at Viterbo University for over two years, helping clients ranging from age 18-65. After graduating, he made stops at the University of Michigan and University of Wisconsin volunteering his time as a strength and conditioning intern, while still pursuing personal training in his free time. Colton has personal trained with clients of all ages with various strength & fitness objectives. He is motivated to help each client reach their personal fitness goals!]
In his own free time, Colton enjoys Olympic Lifting as part of his own fitness routine, but frequently mixes up his routine to try new exercises. Outside of the fitness world, Colton also enjoys outdoor activities such as hunting and fishing. Additionally, he is an avid sports fan, keeping up to date with all the latest Packer, Badger, and Bucks news.
Q & A
Q: Why did you become a personal trainer?
A: I became a personal trainer to help others reach their fitness goals. Everyone has their own way they want to succeed, and I love the challenge of making that happen!

Q: What has been one of your favorite client experiences?
A:Meeting each client and finding out what their unique experiences are and how that can be applied to their fitness goals is the greatest experience I have had while personal training.

Q: What is your proudest physical achievement?
A: As an avid recreational weightlifter, my greatest accomplishment has been being able to back squat twice my body weight.

Q: Why do you love Orange Shoe?
A: I love everything about Orange Shoe and what it stands for. Being able to adapt and meet each new member's fitness goals in a fun and exciting way is a rewarding experience that Orange Shoe excels at!