Orange Shoe
Personal Trainers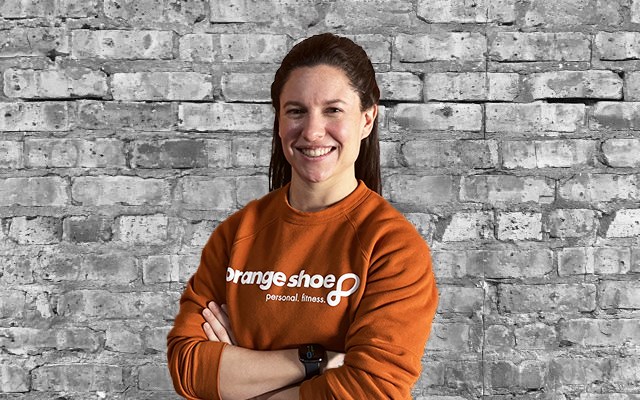 Amanda Oleksak
LCPC, NASM CPT |Fitness Professional
Personal Trainer Park Ridge
About
Amanda is a passionate mental health therapist who is dedicated to providing the very highest standards of care to those she treats. She has worked in numerous settings, including a private practice, hospitals, domestic violence shelter, and dementia/Alzheimer's senior living home. She is now taking on the challenge of integrating mental health and fitness. Amanda has always lived an active lifestyle, and has played soccer all of her life. As an athlete and therapist, she knows how important it is to stay active and to have a positive relationship with fitness as well as your body. When Amanda isn't at Orange Shoe, she is walking her two dogs and most likely trying out a new restaurant in the city with her husband, family, and friends.
Q & A
Q:

Why did you become a personal trainer?

A: I have a vision. A vision to improve the community's understanding of mental health and the mind-body connection. Throughout my years as a mental health therapist, many clients have come into my office with the goal of having a healthier lifestyle, particularly becoming more active whether that includes going back to the gym or finding a new active hobby. I have witnessed time and time again the benefits of exercise on mental health in my clients. Which brings me here! Although I've been an athlete all of my life, I want to expand my horizon in helping people gain control and freedom over their lives by providing them the service of achieving their fitness goals, while continuing to be a mental health therapist.
Q:

What has been one of your favorite client experiences?

A: I don't have a favorite. All my clients are awesome! Every client that I have worked with has trusted me during their most vulnerable state. Vulnerability is a strength. It helps us take chances and go after everything we believe in and desire, even when we are experiencing so much pain in our lives. I've worked with so many who have given it their all and have taken another chance at life. I'm excited to see people in the fitness community take another shot at life, and to not have their physical health limit their dreams. We only have one life to live, so why not invest in your physical and mental health and live your life to the fullest.
Q:

What is your proudest physical achievement?

A: One of my proudest moments is playing soccer at Augustana College. I believe that soccer has taught me invaluable life lessons. Some of the lessons that it has taught me is to be determined, to believe in myself, and to have physical and mental resilience. Soccer has always sparked a fire of passion in me, and has given me so many fond memories. Although it has created such a huge impact in my life, I find it fascinating the impact soccer has to people all around the world. To all those soccer haters… yes, it is the most popular sport in the world!
Q:

Why do you love Orange Shoe?

A: I love how personable Orange Shoe is with their clients, and how the team truly cares about the health and wellness of their members. It makes me proud to expand my career in a gym that welcomes anyone. No matter your age or fitness level, you are welcomed. Obviously as a mental health counselor, I'm all about promoting a safe/nonjudgmental environment. Orange Shoe is definitely one of those places!