Orange Shoe
Personal Trainers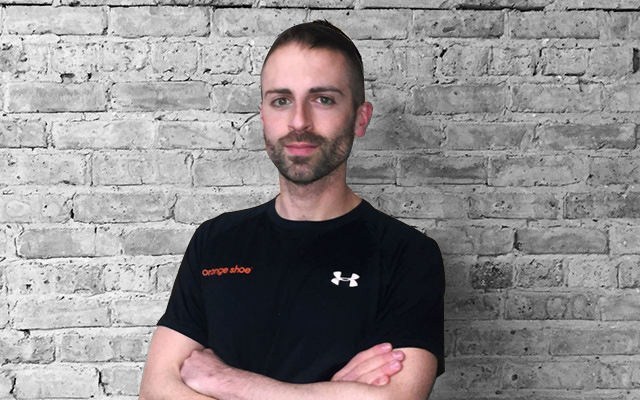 Chris Mackoul
BA,NASM, RYT | Fitness and Nutrition Professional
Andersonville Personal Trainer
About
Chris developed a passion for fitness after losing over 100 lbs to join the US Navy, where he continued his interest in fitness and health. After leaving the Navy in 2015, began helping others achieve their goals to live healthier, happier lives and he knew he wanted to be a Lakeview and Andersonville personal trainer. Chris received his first certification through the National Academy of Sports Medicine, where he became a Fitness Nutrition Specialist, and later completed a 200-Hour Registered Yoga Trainer course. He's always trying to improve and take on a new challenge. Chris is training to complete an Iron Man in 2019 and is always reading, watching, and listening to anything to help him learn more about health and wellness.
Q&A
Q: Why did you become a personal trainer?
A: I first began Personal Training while in the Navy to help my peers reach their goals during our Physical Readiness Tests, and it was a natural translation when I left the Navy to help others achieve their fitness goals. It wasn't until I began attempting other jobs that I realized how much I love training and pushing others to reach and excel past their goals. I haven't looked back since.
Q: What has been one of your favorite client experiences?
A: It was one of my first sessions as an Orange Shoe personal trainer. I was training a client who hasn't worked out in years and was afraid to come into the gym. After our first session, I asked how she felt and she responded in an extremely enthusiastic voice: "I'm exhausted but I'm happy I came!" That kind of attitude and excitement at the start of a journey is amazing and it made me proud of what I do.
Q: What is your proudest physical achievement?
A: Losing over 100 lbs and completing my first marathon in under 4 hours. It took years to get there, and I still have a hard time believing it sometimes, but I did it!
Q: Why do you love Orange Shoe?
A: The most notable part of my time at Orange Shoe was definitely the interviewing process. I met the whole team, many of the clients, and spent weeks doing interviews, out-of-studio projects, and shadowing to make sure I was the right fit for us. The whole staff cares far more than just a job, and it shows in everything they do! That's my favorite thing about OS!