Orange Shoe
Personal Trainers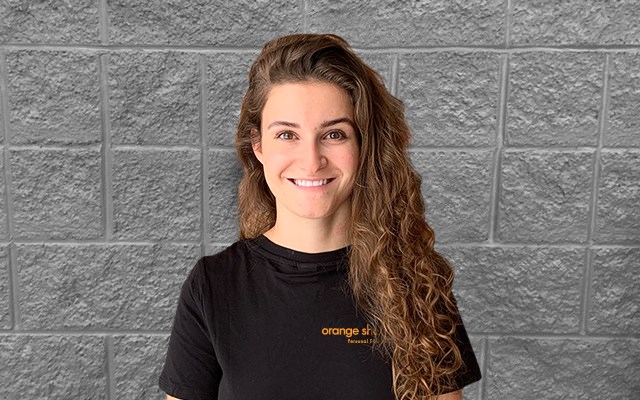 Jasmin Caviezel
ACE Group Fitness Instructor, ACE Sports Nutrition Specialist | Fitness Professional
Madison Downtown Personal Trainer
About
Jasmin is a trainer from Switzerland that graduated from Madison College with her Fitness and Recreation Management degree. She is passionate about helping people achieve their fitness goals, develop healthy and sustainable lifestyles for clients, and focus on a holistic health approach. She is an energetic woman who is ready to push you to become the best version of yourself.
Q & A
Q:

Why did you become a personal trainer?

A: After getting my degree as a pharmacy technician back in Switzerland I really wanted to focus on preventative health care. I believe a healthy and sustainable lifestyle can change one's health for the better. I made it my mission to help clients achieve that by providing training suited to their needs, in order to be healthy and happy. That's why I became a personal trainer.
Q:

What has been one of your favorite client experiences?

A: There have been so many great experiences that light up my heart. Seeing clients achieve their personal fitness goals always fills me with so much joy, if I had to pick one it would be helping my close friend achieve her fitness goals by training her and supporting her.
Q:

What is your proudest physical achievement?

A: My greatest achievement was getting the second brown belt in karate. I did martial arts for over six years and it has shaped myself and the way I train. Staying dedicated to a sport for years requires discipline and motivation. These skills have benefited me in all other sports and fitness training.
Q:

Why do you love Orange Shoe?

A: I love Orange Shoe because every trainer is committed to meet you where you are at in your fitness journey. Trainers will support you and motivate you along the way, so you meet your personal goals. Everyone at Orange Shoe is kind, supportive and respectful which is a great foundation for client's success and amazing teamwork.