Orange Shoe Personal Trainers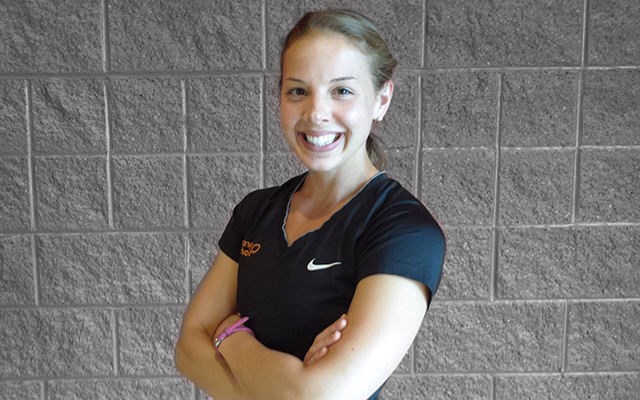 Kelly Haas
BS, ACSM, HHC | Owner, Fitness Professional
Waunakee Personal Trainer
About
Kelly earned her degree in Kinesiology from the University of Wisconsin-Milwaukee and obtained her certification through the American College of Sports Medicine. She developed interests in the connections among stress, sleep, physical activity, relationships, and nutrition and how each of these areas of life affects our journey towards wellness. In order to better help and support her clients, Kelly obtained her Holistic Health Coaching certification from the Institute of Integrative Nutrition in March 2014 and began coaching clients in Fitchburg soon after. She loves to CrossFit, follows countless nutrition and wellness blogs, enjoys writing on her own blog, trying out new recipes, and traveling. As a personal trainer in Fitchburg and owner of Orange Shoe Personal Fitness in Waunakee, she is passionate about helping others reach their health and fitness goals, develop a love for real foods, and make positive changes in their lives.
Q&A
Q: Why did you become a personal trainer?
A: I became a trainer because it was the perfect combination of my passions-helping others make positive changes, coaching clients towards achieving their goals, and sharing my love for fitness and food!

Q: What has been one of your favorite client experiences?
A: One of my favorite client experiences is seeing a complete transformation of a client after she lost nearly 50 lbs. She gained the confidence to quit the job she hated, sold her house, and choose to let go of relationships that weren't serving her. She put her health and happiness first and she was a true inspiration to me as a trainer.

Q: What is your proudest physical achievement?
A: My proudest personal physical achievement was running my first marathon on my 26th birthday and also continuing to challenge myself through Olympic weightlifting and CrossFit. This year I hit a 120 lb. snatch and 143 lb. clean. I am constantly motivated to get stronger and work on my gymnastics skills through CrossFit.

Q: Why do you love Orange Shoe?
A: I love working at Orange Shoe because the environment is always positive. I love working with clients who are motivated and willing to work hard. It makes my job a lot of fun!