Orange Shoe Personal Trainers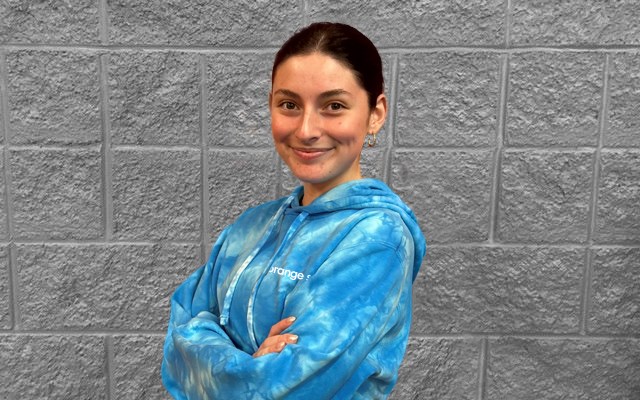 Kierra Steffes
ACE | Fitness Professional
Personal Trainer and small group instructor Sun Prairie
About
Immediately following high school, I enlisted in the US Army as a Military Police Officer. I was born and raised in WI but then stationed in Savannah GA. During the military, I was put in many physical fitness leadership positions. I studied ACE Fitness and received my ACE Personal Training certificate. I recently retired in 2022 and am living happily with my family back home in Sun Prairie. I am now pursuing an Associate's Degree in Pre-Medicine at Madison College, a Bachelor's Degree in Kinesiology at UW-Madison, and strive to get a PhD of Physical Therapy. I have always had a love and passion for fitness. From high school sports including softball and volleyball, to training and movement every day with my dad. I emphasize the value fitness has on improving physicality, mentality and fostering positive emotions. After having two major shoulder surgeries, I really focus on preventative injury through basic functional movements and range of motion. In my free time, I love spending time with my parents/family, loving on my pets, spending time outdoors, and watching movies. One of my goals is to bring a smile and happiness to each client, and have them leave feeling stronger, confident, clear-minded, and more positive than when they came in. I am extremely excited to be a part of the team at Orange Shoe Sun Prairie and I cannot wait to see clients dominate and conquer their goals!
Q & A
Q:

Why did you become a personal trainer?

A: I became a personal trainer because of my love for fitness and the impact it can have on someone's life. My favorite thing about fitness and being a PT is that it has an endless amount of possibilities such as goals, movements, environments, and it affects everyone in society. Fitness can range from walking to your mailbox to get mail or taking the trash outside, all the way to being a professional athlete. As a personal trainer, I love finding new ways to incorporate fitness into someone's life. Knowing that it can help not only improve the overall health of a person physically but also mentally and emotionally. It can help a person to be more present at work or with their families, help them handle stressful situations, and allow them to think more clearly when making personal or professional decisions in life. I love using fitness to help brighten someone's day and allow them to feel confident/strong and gain a clearer mind to face and tackle any barriers they may have in their future. This is something I want to help provide to people in the community.
Q:

What has been one of your favorite client experiences?

A: Being able to help improve a client's mentality and emotions through physical activity during a hard time in their life is one of the most profound experiences I have witnessed and can see in clients. I absolutely love seeing clients conquering their fitness goals and dominating their PR's. But even more so, I want to and strive to see clients leaving the studio with a clearer mind and a bigger smile. At Orange Shoe SP, these experiences occur daily. Clients leave more motivated, inspired, and happy. To me, that is some of the best qualities of success. It drives me to want to be at the studio alongside our trainers as much as possible to continue spreading positive influence for our clients and each other. I am so excited and look forward to all of the great things our clients continue to accomplish.
Q:

What is your proudest physical achievement?

A: One fitness goal that I have set for myself and achieved would be... after a major shoulder reconstructive surgery, I was not only able to achieve my rehabilitation goals within 8 months but enlisted in the Military(Army), and graduated Basic/AIT Training as the top Female Fitness Performer of my entire graduating company.
Q:

Why do you love Orange Shoe?

A: What drew me to Orange Shoe Fitness was the optimistic client-centered approach that all of the trainers have. I realized how much the clients are truly engaged in classes and have an excitement about being at the studio no matter what time of day it is. When clients walk in the door, they feel welcomed by the trainers and are ready to conquer their goals. The trainers also help ensure that the clients feel a sense of safety and comfort when in the studio. That is an environment I want to be a part of and I am truly honored to be a part of the team at Orange Shoe in Sun Prairie.