Orange Shoe
Personal Trainers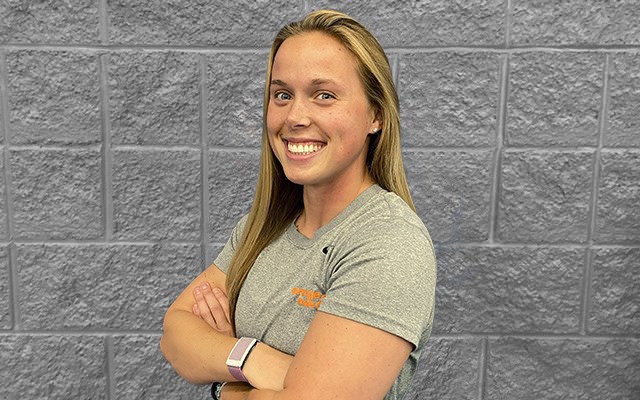 Laura Kwapil
BS, ACE CPT, PN | Fitness Professional
Sun Prairie Personal Trainer
About
Laura is currently pursuing her bachelor's degree in Health and Human Performance with a minor in strength and conditioning from UW- Whitewater. She grew up playing golf and soccer and was always active as a kid, but her true love for fitness came when she found CrossFit. She was able to see how quickly so many people's lives were positively impacted by physical activity and knew that she could help people with that too. In 2019 she received her CrossFit L1 training certification while attending Madison College to obtain a degree in Fitness and Recreation Management. Through Madison College she got her Precision Nutrition level 1 certification and hopes to sit for the certified strength and conditioning specialist exam within the next year. In her free time Laura loves spending time with her friends and family and well as spending time on the lake during the summer. Laura is beyond excited to build connections with clients at Orange Shoe and help them crush their goals!
Q & A
Q:

Why did you become a personal trainer?

A: While pursuing a degree in nursing I was taking a general foundational fitness class and was taken aback by how easily exercise could cure a lot of diseases. I thought, why focus on curing someone from disease or ailment when we could just prevent it in the first place. My obsession stuck and I quickly took more and more exercise science classes with school. I realized that this could turn into a profession, and I was sold.
Q:

What has been one of your favorite client experiences?

A: While attending classes at Orange Shoe prior to training there I fell in love with the energy that I felt in the studio. Every client and trainer that was there was in a positive mood and just happy to be there. Everyone cheers for each other, and every win is celebrated, big or small. It's the best environment to be a part of!
Q:

What is your proudest physical achievement?

A: Over the past year I did a total body recomposition where I lost 30lbs and maintained all muscle mass. I did this by making my fitness and nutrition a priority while also removing a lot of negativity and barriers from my life.
Q:

Why do you love Orange Shoe?

A: I love Orange Shoe because it puts people first. We see them as individuals rather than just a number, like many big box gyms do. We prioritize relationships and building connections that are going to keep clients coming back year after year. Building this foundation with clients gives them the motivation to believe in all they are capable of and make those big lifestyle changes they are looking for.