Orange Shoe
Personal Trainers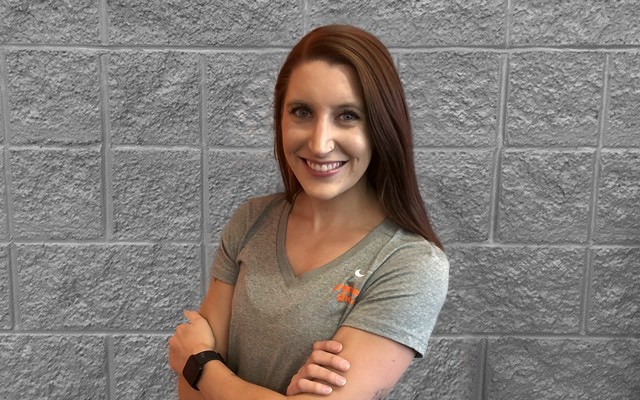 Michaela Williamson
BS, ISSA Personal Trainer, Sports Specific Nutrition, FMS, 3D MAPS | Fitness Professional
Sun Prairie Personal Trainer, best fitness trainer in Madison area
About
Michaela graduated from the University of Wisconsin – Madison with a bachelor's in Exercise Science and an emphasis in Sports Performance and Nutrition. Upon graduating, Michaela hit the ground running taking on a Personal Trainer, Group Fitness Instructor, Sales role at her local gym. It was a great experience helping her realize where she wants to see herself in the fitness industry. Prior to joining the Orange Shoe team, Michaela worked in corporate wellness for a client in Downtown Milwaukee. She spent those two and a half years coaching new trainers, developing programs/challenges for the site, assisting her manager and understanding the fitness industry in a new light. Letting go of the admin, corporate world, Michaela is full of enthusiasm and ready to help you achieve your goals and experience working out for all the fun it truly is!
Q & A
Q:

Why did you become a personal trainer?

A: I became a personal trainer because while growing up, I was completely surrounded by the industry and never thought about ever doing anything else. I knew I loved everything about health and fitness from the young age of 9. Now, being in the industry, my reasonings have grown – I never truly understood the impact I would have on people until actually doing the work. Every day I am reminded why I chose this field; it's plain and simple – I enjoy helping others reach their goals of success and health. I enjoy helping people feel great about and confident in themselves.
Q:

What has been one of your favorite client experiences?

A: One of my favorite client experiences came from obtaining a new client after one of the trainers from a site I used to work for left the company. Going into our first session, I was very nervous! She already had an established relationship with this other trainer and now I was supposed to deliver a service hoping 'that she likes me' and 'she likes the workout'. Nerves aside, after two and a half weeks, she had lost 6lbs and felt the best she has felt in years! As her 'new trainer', that was all the confirmation I needed that we were going to be a great fit for each other.
Q:

What is your proudest physical achievement?

A: My proudest physical achievement was the moment I squatted 225 pounds for a whopping 2 reps! I set the goal for myself wanting to squat twice my body weight. Though I never got that additional 5 pounds, I felt it as a major accomplishment for myself and pushing my physical limits.
Q:

Why do you love Orange Shoe?

A: I love Orange Shoe because they are committed to helping each and every member as if it were their best friend and that everyone works as a team to be successful together. I love that new members can come in and they find zero reasons to be intimidated but instead create instant friendships/relationships.