Orange Shoe
Personal Trainers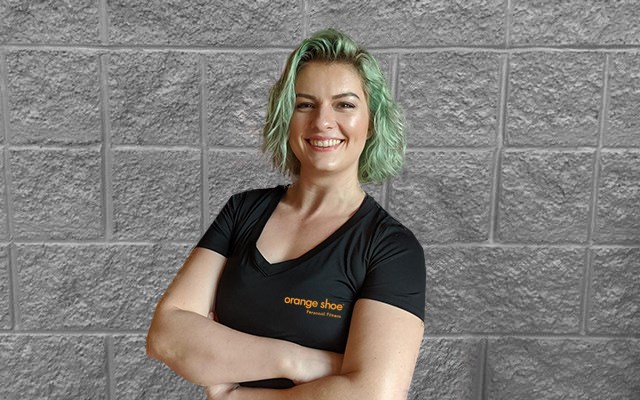 Regan O'Brien
BS, ACSM | Fitness Professional
Personal Trainer Fitchburg
About
Regan has a BS in Public Health from University of Illinois at Urbana-Champaign. Sports and fitness have been a part of Regan's life for a long time from horseback riding, to swimming and water polo in high school, to yoga, aerial arts, weight lifting and dance in her adult life. Exercise is the best stress relief and the best way to lead a healthy lifestyle. Regan is an encouraging, gregarious person who's excited about helping you achieve your goals. She likes taking a theory based, realistic approach. She got her personal trainer certification through ACSM.
Q & A
Q:

Why did you become a personal trainer?

A: I want to help people achieve their goals, better themselves, and lead healthy lifestyles. My Public Health degree taught me how exercise is the number one thing you can do to preventative chronic illness. Being able to practice that first hand, on the individual level really makes me feel like I'm doing important work. I'm also inspired by my grandfather who was a football coach for many years. As a coach, I hope I can positively touch as many lives as he did. I want to help us humans be a little more superhuman.
Q:

What has been one of your favorite client experiences?

A: I had a sport-specific client who wanted to be able to do a specific trick. When she came to me, she had very little-body awareness and wasn't anywhere near that trick. She and I worked together for a year and a half conditioning, building body awareness, and working on that trick. After a year and a half she did a routine with her trick in it. I was so proud, I cried! With patience and resilience, we achieved her goals and she was able to perform for her friends and family.
Q:

What is your proudest physical achievement?

A: I had a specific goal: to do a handspring. Achieving that was probably my proudest so far. I worked with a trainer for a year, conditioned my body and worked on that trick over and over until I can do it reliably.
Q:

Why do you love Orange Shoe?

A: The personal connection here is something really special. Everyone I've encountered here has been a genuinely nice person; they're caring and helpful. You can get a work out anywhere, but people stay because of other people.