Madison West
Nutrition Coaching
Middleton nutritionists helping you build healthy foundations.
Healthy Foundations program.
The Healthy Foundations nutrition + exercise coaching program from Orange Shoe is all about developing hands-on, real-world practices and skills that will help you make positive nutritional and fitness improvements for good. If you're tired of diets, rules, restriction, calorie counting and food-related stress, this is the program for you!
Healthy Foundations is a 12 month, 100% online nutrition program with optional exercise coaching. You'll receive daily nutrition lessons and practice taking consistent actions toward a new healthy habit every two weeks. Your own personal coach will help keep you accountable and motivated! To add to your support system and help you succeed more, you'll also be invited to join a private Facebook group just for clients in this program.
For more information on the exercise coaching component of this program, check out the frequently asked questions section below.
Watch the short video to learn what others have done to help gain control over their daily eating habits.
Join with a friend!
Save over $250 if you sign up for coaching with a friend! (both of you register individually below)
Our next Middleton nutrition coaching group starts Wednesday, October 14th, 2020.
Only Me

Reserve Your Spot!
OR

Reserve Your Spot!
Bring a Friend!

Reserve Your Spot!
OR

Reserve Your Spot!
100% Money back guarantee. Give Healthy Foundations an entire year while completing 75% of your lessons and habits. If you don't get everything you are looking for at the end of the year, we'll give you a full refund.
Already an Orange Shoe client? Have questions? Contact Coach Greg at gsmith@orangeshoe.com.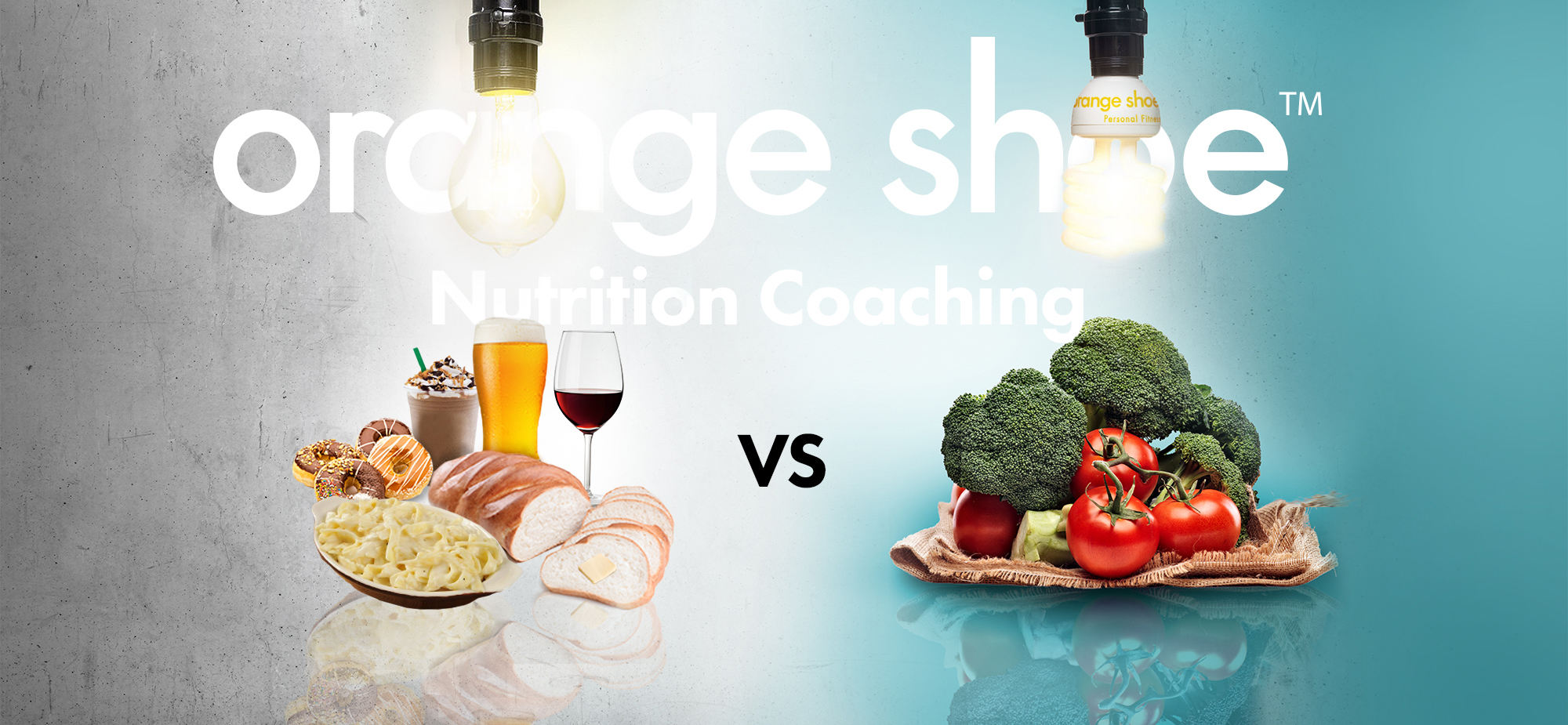 Frequently asked questions: Healthy Foundations nutrition coaching.
Who is Healthy Foundations for?
Healthy Foundations nutrition coaching is for men and women who want to get in the best shape of their lives—for the rest of their lives. It's for people with busy schedules who want personal accountability, a structured nutritional program to follow, and a personal coach to help keep them consistent and on-track.
Will Healthy Foundations nutrition coaching work for me?
When you commit to making small, strategic nutritional changes in your life and follow program recommendations, you will get results. It takes hard work, time (about 10-15 minutes/day) and determination to change your body. Your coach will be with you every step of the way to help you overcome difficulties as they arise and teach you everything you need to look, feel and perform your best. For good.
What will I do in Healthy Foundations?
In a simple, step by step program, you'll work on your goals, one day at a time, by practicing healthy habits and working through daily lessons to help you learn how to make these changes for good. Every 2 weeks, we add in a new, healthy habit for you to practice each day. By practicing these habits daily, weekly and monthly, over the course of 12 months, you'll make changes and see results you never thought possible.
Our flexible, online program helps you learn and practice daily skills from your smartphone or computer.
Your personal coach, Coach Greg will be with you each step of this journey to help you develop realistic and attainable weekly goals to help you achieve even better results!
Whether you want to look and feel better, have more energy or improve your relationship with food, Healthy Foundations and Coach Greg will support you through the process.
Tell me about exercise coaching.
Healthy Foundations exercise coaching takes everything that's amazing about our nutrition coaching program while seamlessly integrating customized workouts to help you maximize your results.
Whether you want to lose weight, build muscle or find a way to exercise while you have an injury, our exercise coaching will be customized to fit your needs.
The best part? YOU get to customize your experience!
Each week, you'll be given 3-5 suggested workouts to complete based on goals/abilities. Along with your coach, you'll adjust the difficulty of movements and the amount of sets and reps that feel right for you. You'll be able to get in a great workout whether you have full gym access, prefer to workout at home, use a hotel fitness center while traveling, or simply want to get in a quick sweat.
Just as you progress with your nutrition habit development, in the exercise portion of the program you'll build you fitness skills and routines in a safe and flexible way.
If you're looking for a cookie-cutter, 30-day magic "fat blast" or "detox" diet or exercise plan... you won't find that here. Instead, we give you a step-by-step process of gradual habit change and learning. Over time, habits build.
You practice making and maintaining regular activity as part of your lifestyle.
You practice moving in ways that strengthen you and keep you injury-free.
Eventually, you will eat well, exercise regularly and feel great.
Frequently Asked Questions
How do workouts fit my goals?
Just as the nutrition habits build over the course of 12 months, your coached exercise program will work in the same way.
If losing weight is your main goal, all of your workouts from Day 1 to 365 will be geared toward that goal.
Looking to build muscle? All workouts over the course of the year are designed to help you build muscle.
What's a "sample" day of exercise look like?
Every single workout will include a warm-up and a "main" workout for that day. All movements will include 2-3 variations so you can increase/decrease difficulty or adjust to a movement that fits your body best.
Along with these variations, each exercise has a video of what to do, what not to do and worded instructions and pictures. You'll always know exactly what to do, for how long, how much, and any other details you might need.
What if I'm injured right now or have a chronic injury?
You're covered! When starting the program, you'll tell us all about your exercise history and any injuries. If you've got a short term injury you can/will be placed into a workout "path", still focused on your goals, that will include movements that work for you and allow you to exercise with that injury.
Whether it's a short term or long term injury, upper body, lower body, or a low back injury, Healthy Foundations exercise coaching will work for you.
And, don't forget, you've got your own personal coach to help guide you and adjust your workouts when needed.
I'll be exercising at home. What will I need?
You'll learn all about this once the program gets started, but in general, you will need a light, medium and heavier dumbbell (Men ~20, 30, 40# and Women ~10, 20, 30#) along with some resistance bands. Of course, you'll start with what you can and adjust/get more as needed.
Simple, you'll select the "quick workout" option for a condensed version so you can still get your workout in even on the busy days!
What if my goals change during the 12 months?
No problem, you and your coach will discuss your needs and you can simply be put into a different workout program. Maybe you've hit your weight loss goal and now want to focus on toning up and building muscle...your coach will switch up your workouts so you're moving toward those new goals.
Or, maybe you slip and fall and have a short term lower body injury. No worries, you can go into upper body and core focused workouts until you're able to do lower body training again.
What if I've NEVER exercised before?
Healthy Foundations has a workout path just for this! For novice exercisers, the program goes more slowly and focuses more on bodyweight movements. You'll get moving while learning and building fitness skills.
What if I'm more advanced?
Challenge yourself to deepen your movements and really grasp what you're doing, to do it even better than you're doing it now, and to understand why you're doing it in the first place.
If you're used to the "go hard or go home" school of working out, these workouts may seem a little slow or "too easy" at first. But they're sneaky and they add up.
And of course, you can add intensity, density or volume in any workout. In other words, you can make it harder... if you're ready.
Over the course of the year, you'll build a solid foundation of exercise understanding and practice that you can take with you into the rest of your life.
How are workouts scheduled?
Workouts will be "set" in a schedule each week, but you can always adjust this to fit YOUR own schedule. This might mean Thursday;s workout is done on Friday or you take an extra rest day.
The "exacts" aren't nearly as important as the overall consistency week after week and month after month.
Meet Your Coach.
Coach Greg Smith has been with Orange Shoe Personal Fitness for over 10 years and recently spent a full year crafting his coaching skills while earning his Precision Nutrition Level 2 Master coaching certification. In the Healthy Foundations program, Coach Greg has worked with and helped over 100 clients lose hundreds of pounds and inches, increase their daily energy, improve their self-confidence and self-esteem, as well as develop a healthy and positive relationship with food.
Greg looks forward to working with you and helping you achieve your health and fitness goals!
UW Madison – Exercise Science Degree
Precision Nutrition Level 1
Precision Nutrition Level 2 Master Coach
ACE Personal Trainer
ACSM Certified Exercise Physiologist
Contact Coach Greg Smith: gsmith@orangeshoe.com
Common Questions
Get answers to the most common questions about Healthy Foundations nutrition coaching below.
Why is this a coached nutrition program? What does Coach Greg do for me?
True change - the kind that sticks with you forever - usually doesn't come from reading an article or watching a video. The change you're after happens with interaction and connection…...with Coach Greg! Having coached numerous clients through the Healthy Foundations nutrition program, Coach Greg has found "coaching" means many different things to his clients.
He's there to listen and lend an ear to what's going on in your life. He steps in to offer feedback and suggestions to help you overcome challenges. He can even coach you on how to handle nutrition during that week-long vacation you have coming up.
Coach Greg adapts his methods to help YOU get healthier. Whether you need a push or a pick up, he's there to offer guidance and support. Healthy Foundations nutrition coaching is designed for those who need and WANT the extra human interaction and guidance. With this program, Coach Greg and your daily action and effort, you'll soon see and feel real results.
Is nutrition coaching for advanced people? Beginners? Young? Old?
The "typical" Healthy Foundations client isn't typical at all. Coach Greg has worked with stay at home moms and dads, doctors, lawyers, teachers, college students, retirees, and many other types of professionals from all walks of life. Coach Greg has worked with clients between the ages of 25 and 70. He has coached everyone from beginners starting out at the gym to strong athletes. What they have in common is they all want to make lifelong changes and see results that stick.
Coach Greg tailors your program so it's just for YOU. This isn't a "one size fits all approach." He'll take into account your lifestyle, needs, wants, abilities, and readiness to change. His aim is to meet you where you are so you can be confident in each change.
Is Healthy Foundations ONLY for weight loss?
Definitely not! Weight loss is a main focus of the program, but it isn't all this is about. Many clients come into the program looking to lose a few pounds. Some begin nutrition coaching after a lifetime of poor eating habits and extreme mindsets about food. After a few weeks, they see a shift in their RELATIONSHIP with food.
Success looks different for every client. Your nutrition program is about what YOU want to accomplish.
Can I do the Healthy Foundations nutrition program with a friend/spouse/co-worker?
Of course! You'll each register individually so Coach Greg can tailor each program to your individual needs and abilities. Having someone going through the process alongside you is something that can only help you more in your own journey. Typically, the stronger and more positive support system you have, the better success you'll have long-term.
I don't live near or work out at Orange Shoe, can I still do this program?
100% YES! In fact, a big reason Coach Greg started this online nutrition program is so he would be able to reach and help more people without the confines of time and space. Instead of trying to meet up and go over EVERYTHING with you in a short time frame, Healthy Foundations utilizes a flexible, online-based system so you're able to work and practice your habits on your schedule. You'll still get frequent, often daily, interaction and feedback from your coach.
Coach Greg is able to follow along with your daily progress and guide you along the way. You'll find this is the BEST way to make these changes stick for the long term.
Will I get a meal plan to follow?
No, meal plans aren't part of the program. Meal plans often aren't very useful or sustainable for most people. This approach makes every meal all or nothing. When people stray from their meal plans, they can feel negative, guilty or like they've failed. Food DOESN'T have to be this way. And it shouldn't be.
In Healthy Foundations, our approach to nutrition is to help you build and develop a set of skills and habits that stick with you the rest of your life. Coach Greg helps you determine which foods work best for YOU, your needs, your lifestyle and your health goals. You'll explore, experiment and find out which foods, how much and how often make you feel best. This is a plan that WORKS and is sustainable for the rest of your life.
Why is the program 12 months long? Is there a shorter option?
The main mission of Healthy Foundations is to create lifelong changes and habits to help you create a healthy relationship with food and get the results you're looking for. These types of changes can't be "sped up" or done in "extreme mode."
It'd be nice to just push a button and have this all happen in a month or two, but our minds and bodies don't quite work that way. Ever try to "multitask" 10 things at once and do it all really well? How'd that go? Odds are, it became a bit overwhelming and you ended up getting LESS done than if you had just focused on ONE thing at a time.
Nutrition and lifestyle change works the same way. When you slow down a bit and really focus on making ONE change at a time, week after week, habit after habit, you'll find change is that much EASIER and you find yourself STICKING with those changes. Coach Greg is committed to YOU for a full year so you're able to make lifetime transformations.
Do you really guarantee results?
Yes! Stick with the program for a full year, complete at least 75% of your lesson and habits, and if you don't feel you got what you were looking for, we'll give you a full refund. We stand behind this nutrition program and are confident that if you put in the time and energy into it, you'll get everything you want and MORE!
Tell me more about the Men's Program.
Tell me more about the Women's Program.
Make the change for better health today - contact Coach Greg for more information on Healthy Foundations!
Healthy Foundations Testimonials.
The past year has been truly life altering. I have learned so much about not only nutrition but about myself. The program is a year because we make changes that LAST - these are not "quick fixes" - these are habits that take time to master. These habits become part of how we think and they help shape our behaviors. This program taught me how to view nutrition, how to make better decisions and how to prioritize rest, sleep and self-compassion. I now feel like I am truly a fit and healthy person. I feel CONFIDENT in my skin. I feel comfortable in shorts, a t-shirt, a tank top, you name it! I choose healthy foods without a hesitation. The most important outcome is that my family is healthier too! In the past year, I have not altered my workouts at all. I still run, lift, do yoga and other activities - but I have completely reformed my eating. The nutrition was the piece missing for me. The Healthy Foundations Nutrition program helped me make progress that I am confident I can maintain. – KS
You work with the positive because uplifting ourselves is so much better than beating ourselves up. Seriously, changing out habits slowly is such a smart way to go because change is scary. Healthy Foundations Coaching is like wading into the water. It helps us feel more comfortable before we go all in. The coach never made me feel as if I was doing anything wrong, and my coach is always right on top of my questions and concerns. I was more honest with him about my food issues than I ever was with my husband or anyone else. I was embarrassed by my binges, but I found that the more I talked about it with my coach, the more open I became. Then I realized I am not the only one who suffers from this issue. But I can do something about it. I've changed so many things slowly in the last year. It was a pace I liked because it didn't push me to be perfect. We're not perfect. We never will be, but we can always strive to be just a little bit better everyday. – TA
Man, everything is different. But if I had to pinpoint the biggest change I'd say that I believe it's possible now. That I am capable of achieving any fitness or health goal I set my mind to, that I don't have to be born into some special athlete's body or life, that there's not something just inherently wrong with me that keeps me from doing what my heroes do. – MG
My progress button has been turned on instead of my failure button. I have a long way to go, but I am beginning to look at my achievements instead of failures. – MB
I really appreciate the program and how you've been able to make what seems to be a complicated subject, (nutrition) easily digestible (no pun intended!) It's nice not to have the focus be on some "secret" concoction that will cure my love handles and baldness, but rather a strategic approach to integrating long-lasting behavior changes that I can benefit from for the rest of my life! – SM
I like the daily lessons; it helps me maintain effort. I like the expectations – small changes every 2 weeks. It's very different from what I have done in the past. My coach is awesome; I really value his attentiveness and feedback. – KS
Greg, I love how passionate you are about this program. Not once have I felt like I couldn't be open and honest with you about my shortcomings and fears. Your positive feedback is always great to see, because there are days when I feel like I'm doing it all wrong. I'm stressing less about calories, enjoying my food so much more, I've lost some weight, and I'm smiling more. I'm a much happier person today – TA
The online platform delivers some great information and gets me thinking deeper about issues. I have found it motivating. – CJ
I appreciate Coach Greg checking in to see how things are going and talking me through daily situations. I think that the program really gets you to think about your behaviors and habits so that you can assess these and make small changes to help you with the nutrition journey. – JM
This is the least amount of stress I've felt over any food or nutritional program and the most amount of "I can do this" I think I've had. – AKB
I have begun to see results in my diet and attitude towards food. I didn't think the gradual approach would work for me, but it does. I actually think about what I eat & drink now. 48 years of bad, impulsive habits are starting to go away. – JF
I really like the daily reminders and that I can get to them at my own pace. I'm keeping with daily habits and like the gradual climb. – MP
Looking back, I am not sure I really knew what I was getting into when I signed up for your program, but I figured why not, what could it hurt? The past 7 months have been easy in a hard way, if that makes sense. Today I finally passed the -30 pound mark, 31.4 to be exact. I can't wait for -40! – CA
I like that I can read/listen as it fits into my schedule. The messages from Greg are helpful as well…sometimes I need that little nudge! – LL
I think the short, easy-to-digest lessons are very effective.I also like the slow pace of the program. Usually, I like to dive right in to things, but with this, I was really nervous because it seemed like such a big commitment and a huge lifestyle change, so I appreciate that it's starting with slow, manageable steps. – AP
The program has kept me focused daily – and this focus has kept me aware daily of my eating habits –which is what I need – TS
Overall, I'm pleased with my experience! I know that it is a process and it takes time. I can tell my body composition is changing and I feel much better and have more energy. – BH
My willingness to start this program is because of my coach. He understands me and my roadblocks to weight loss. His knowledge of the program and his dedication to providing feedback is exceptional. – GG
At the start, the course's year-long program seemed like an eternity to devote to - it went by so, so fast. We started easy and focused on the most basic habits like being thoughtful and purposeful as we sat down for a meal (yes, sat down and not grabbing something on the run for a change). From there, we ramped up and moved into practicing these basics and building upon each. Having the opportunity to reflect openly to the coach throughout each lesson was something I found a lot of value in. I was able to be honest about what I had done in the past and how these new experiences and challenges were affecting me, resulting in a more positive way that I was approaching my nutrition.While I personally was never in this program to lose a specific number of pounds, I was absolutely looking for results. Sure, we could take physical measurements every few weeks and I did notice a welcome change in weight and girth. For me though, the newfound self-confidence in my body and the way it moved and felt, the profound satisfaction that I got from planning out healthy meals and snacks (still many for on-the-go), the new habits I had worked so hard to form - those were precisely the results that I needed. – LP