How it all Began: The Orange Shoe Story
One Man, A Pair of Bright Orange Running Shoes, and a Trunk Full of Drugs

Josh was a successful drug dealer. No, not the type of drug dealer you're thinking of. Josh was a pharmaceutical rep and he was one of the best! He'd make visits to local hospitals and clinics all day long and would ALWAYS wear his favorite pair of bright Orange Nikes. They made him feel confident! But one day, Josh had an epiphany; "What if I helped people avoid needing these drugs in the first place?", he thought. A lot of the drugs he sold were for preventable diseases to begin with, hmmm…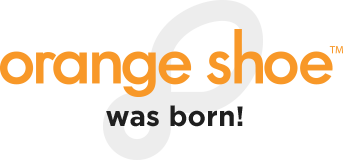 Josh wasn't a fitness person so he quickly hired a young woman named Katie and a man named Scott. Both of whom were passionate individuals who loved helping people do more than they thought possible. Katie and Scott had degrees in Exercise Sport Science and Teaching (Scott still has nightmares thinking about a kindergarten class he taught!). Their passion for helping others was undeniable but they lacked business experience. Together with Josh's business expertise, the first team of Orange Shoe Owners was formed! Eventually, Scott and Katie got married and together they made Orange Shoe a successful holistic health and fitness company!
Who We Are
Think of a gym where everyone knew your name. A judgment-free space where you felt safe. A place you enjoyed going and had a team of professionals to help you stay accountable to your goals. Well, that's exactly what Orange Shoe encompasses.

Leading the Next Generation...
Although Josh has moved on to new ventures, Katie and Scott have kept the Orange Shoe flame burning strong! Each year, there are new leaders at Orange Shoe partnering with fitness professionals, who want to open their own Orange Shoe studios and expand their careers. It's how Orange Shoe has grown. Helping fitness professionals reach their professional goals has allowed Orange Shoe to impact more people than Scott and Katie could have ever done alone.

The Future is Bright!
Since 2004, the teams at Orange Shoe have helped people improve their lives and develop into the best versions of themselves. When people are confident and winning with their health and fitness, they're better parents, better spouses, better employees, and better at managing stress. In short, everything is BETTER! The fitness industry will always be changing, but one thing is certain, Orange Shoe will always be focused on creating long lasting relationships with people, fitness professionals, and the communities they serve.
We wish you a long life full of health, happiness and many fun adventures along the way. We look forward to seeing you at Orange Shoe soon!