Orange Shoe Personal Trainers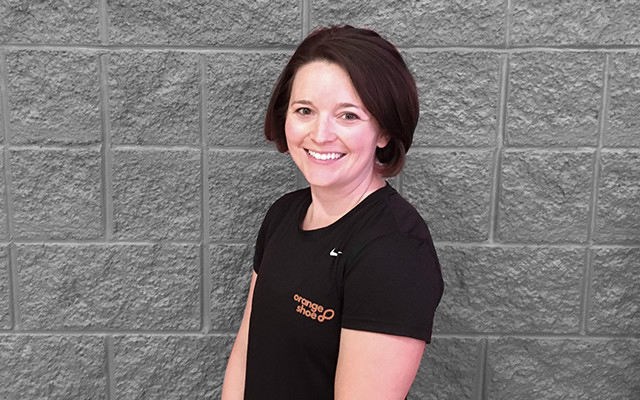 Amber Peterson
BS, JD | Fitness Professional
Fitchburg Personal Trainer
About
Amber is a graduate of the University of Wisconsin – Madison and Marquette University Law School. She fell in love with Pilates in 2007 when she quickly noticed an improvement in her posture, flexibility, and core strength. Because of a desire to improve her own practice and to teach others, Amber completed the comprehensive Pilates teacher training program through the Midwest Pilates Institute. Amber finds Pilates to be a challenging workout and a great compliment to more strenuous forms of exercise. Having a strong core and a keen sense of body awareness is an invaluable way to avoid injury and to enhance physical performance in all other areas of life. As a Fitchburg and Waunakee personal trainer, Amber looks forward to working with both new and experienced clients to help them achieve their goals.
Q&A
Q: Why did you become a personal trainer?
A: I became an instructor to further develop my knowledge of Pilates and to share my enthusiasm for this form of exercise with others. I've experienced so many positive benefits from practicing both Pilates and yoga and have a strong desire to help clients achieve the health and happiness that comes with having a strong core, improved flexibility, reduced stress, and shoulders that stay away from the ears! I love helping clients understand how the exercises we do on the mat can improve their performance both at the gym and as they move through day-to-day life.

Q: What has been one of your favorite client experiences?
A: One of my favorite experiences was working with a client throughout her first pregnancy. She did Pilates with me 1 to 2 times a week and was thrilled that she never experienced any back pain or major discomfort during her pregnancy. At one of her final checkups, her midwife, who had been practicing for over 30 years, said she had never had a patient experience so little discomfort while pregnant. My client told her it was because of Pilates!

Q: What is your proudest physical achievement?
A: My proudest physical achievement was participating in Ride Across Wisconsin (RAW), a bicycling event sponsored by the Wisconsin Bike Fed. I started the ride in Dubuque and finished in Kenosha, covering 178 miles in one day!

Q: Why do you love Orange Shoe?
A: I love Orange Shoe for so many reasons. I started as a client in 2013 and immediately fell in love with the diverse and challenging workouts and small class sizes.

I had tried several other gyms in town and none had the sense of community that I was looking for. I love how knowledgeable and friendly the trainers are and how they care about helping clients achieve their individual goals. As an instructor, I love working with clients who are so dedicated to improving their health and are always eager to learn new things.