Orange Shoe Personal Trainers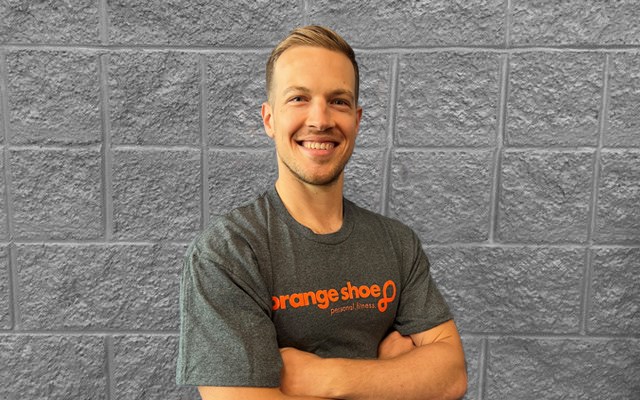 Erik Aellig
MBA, NASM |Fitness Professional
Personal Training Brookfield
About
Erik is a NASM certified personal trainer and a professional basketball referee. Although Erik has always been involved in athletics, either as a player or referee, his true health journey began during his final year at UW-Whitewater in 2014. Surrounded by a household of personal trainers and concerned about his own energy levels, Erik began following a fitness program to try and reverse the effects his poor diet and fitness routines were taking him. Since then, Erik has committed himself to a healthy lifestyle and has been able to achieve health goals he once thought were impossible. He has successfully completed a sprint triathlon, lost 40 pounds, corrected his bad posture, and improved his athleticism to help him recently achieve his goal of becoming a professional basketball referee. Along with maintaining a healthy lifestyle, helping others understand and achieve their goals is equally important to Erik. After many years studying the most elite athletes and trainers on the planet, Erik became a certified personal trainer in order to share his knowledge to help others transform their mindset and activate their healthy lifestyle. Outside of fitness and basketball, Erik loves traveling and spending time outdoors with his wife Kayla and goldendoodle Atlas!
Q & A
Q:

Why did you become a personal trainer?

A: I became a personal trainer because I love helping people. Coming from a poor health and fitness background, I used to lack any real understanding of nutrition and exercise. I never valued how important it was until I had to make my own lifestyle changes. After realizing how difficult it can be to commit to a healthy lifestyle, I want to be there for my clients and friends to help them understand and engage in their own fitness and nutrition goals. It wasn't until I achieved some small success with my own nutrition and fitness until I realized how vital it is for your physical and mental well being to engage in a healthy lifestyle. I want to be there for my clients to help them navigate all the distractions and challenges so that they too can start feeling the positive benefits of engaging in the proper fitness and nutrition habits.
Q:

What has been one of your favorite client experiences?

A: My favorite client experiences are always when I witness a client not only achieve a short term goal they have set, but when I witness a complete shift in mindset towards achieving long term lifestyle changes.
Q:

What is your proudest physical achievement?

A: My proudest physical achievement was training for and completing my first sprint triathlon. A friend had convinced me to sign up on a whim with only a couple months' notice. With little research, I started to train diligently towards a goal I thought would be impossible. Despite not really understanding what I had signed up for, I successfully endured many long training bouts and finished my first triathlon race in a respectable time.
Q:

Why do you love Orange Shoe?

A: I love that Orange Shoe is able to provide a variety of training and nutrition plans regardless of client background or goals. The group fitness classes are scalable and designed to incorporate many facets of physical health including functional mobility, flexibility, strength, balance, and hypertrophy. Every class or individual training session is unique and can be tailored to you and your goals. The best part of Orange Shoe is the environment is cultivated well to incorporate friendships, accountability, and results regardless of where your starting point is in your personal health journey