Orange Shoe Personal Trainers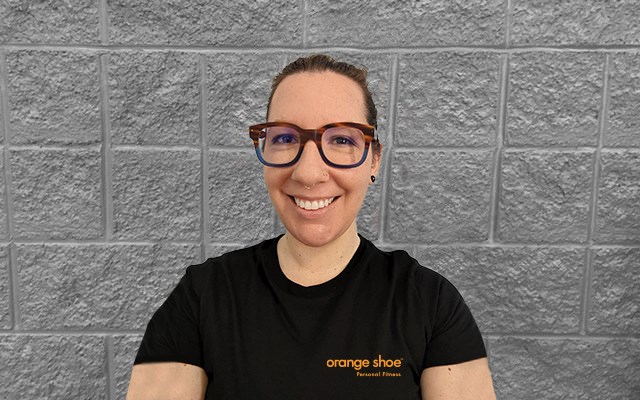 Mallory Lopez
BA RYT 200 | Fitness Professional
Madison Downtown personal training and fitness
About
Mallory graduated from Purdue University in 2009 with a degree in Anthropology and Linguistics. She moved to Madison in 2010 and spent 10 years working for the State of Wisconsin. She realized her real passion was fitness once she started working out regularly at Orange Shoe as a client. She loves finding her serenity in the gym, whether it's working on lifting heavier weight, learning a new movement on TRX, or feeling all the emotions on a foam roller. Mallory is also a yoga teacher and loves to bring flexibility and breath work into her sessions. When she is not at the gym, she likes to curl (yes, with the broom and ice) and hang out with her husband and her dogs. She enjoys all crafty things, especially sewing and knitting. She is also a bike rider and loves to go bike packing.
Q & A
Q:

Why did you become a personal trainer?

A: I didn't grow up with an interest in sports or fitness. I decided to join a gym after a few injuries and a foot surgery. I was scared to walk into a gym at first. Once I finally did, though, I was hooked! I fell in love with working on my strength and being the best version of myself that I can be. I wanted to learn more about the technical side of fitness. My goal is to help others who are also intimidated by the gym find their strongest self and meet their goals.
Q:

What has been one of your favorite client experiences?

A: I enjoy showing others that the gym doesn't have to be scary. I want everyone to feel safe, comfortable, not judged, and to enjoy themselves. Meeting with clients who feel just like I felt when I first started my fitness journey helps me see how far I've come and inspires me to help them find the joy I've found.
Q:

What is your proudest physical achievement?

A: I completed my first bike race in summer 2021. I woke up late, didn't eat much breakfast, forgot my inhaler and water bottles, and I almost bonked...but I finished it! It was something I never thought I would be doing. Now I'm planning on more races in the future! (And I'll make sure to be more prepared for the next ones.)
Q:

Why do you love Orange Shoe?

A: I love Orange Shoe because it's a welcoming environment. It was the first place I felt comfortable to ask questions and admit I had no idea how to use most equipment. I was met with so much knowledge and encouragement from the staff. I am excited to join the staff and provide knowledge and encouragement for others.