Orange Shoe
Personal Trainers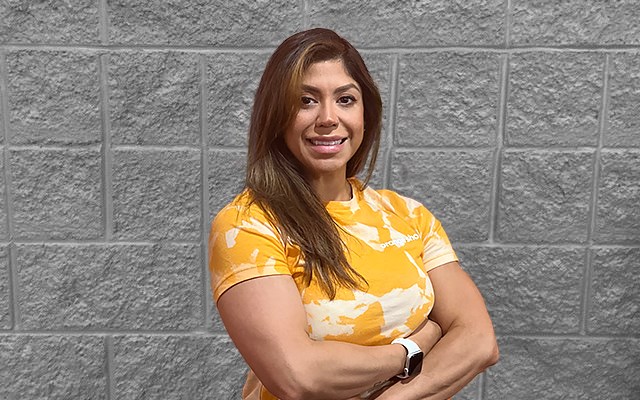 Michelle Payes
Fitness Professional
Personal Trainer and Fitness Instructor
About
Michelle found her passion for fitness while trying to lose weight and gain confidence in herself as a teen. She soon learned that she wanted to show others how therapeutic fitness can be. In her free time, Michelle can be found cooking, she loves to eat (food is fuel!) or relaxing with her hedgehog, Doug.
Q & A
Q:

Why did you become a personal trainer?

A: Fitness started as a personal challenge. I had always engaged in sports but never took them entirely seriously and struggled with weight and body image issues for the first half of my life. I decided to take control of that with weightlifting and exercise and soon, I fell in love with it. Fitness became therapeutic for me; it is my goal in life to be able to teach others the joys of exercise and how gratifying it can be. Fitness has helped me maintain the mindset that determination and discipline can remedy ANY situation, but the opportunity starts with YOU.
Q:

What has been one of your favorite client experiences?

A: I can't pinpoint one, but my favorite experiences are those where my clients are so engaged or so inspired that they tell me about their experiences outside of the gym, and how they use techniques that we've used in a the session, on their own. It gives me so much joy to know that my client's trust my expertise enough to apply it to their everyday lives and to learn from it. Their persistence and determination continue to inspire me to give the best that I can to my clients and to always be ready to learn something new to pass on!
Q:

What is your proudest physical achievement?

A: My proudest physical achievement is currently ongoing. I have always loved the discipline I've seen in bodybuilding and was always so curious about competing myself. I am currently in the process of prepping for my first bodybuilding show, and I couldn't be happier. It is not an easy process by a long shot, but I have learned so much about my strengths and weaknesses in bodybuilding and where my opportunities for growth lie. I am progress-driven, and this process pushes me to work hard and compete with myself to be my best self.
Q:

Why do you love Orange Shoe?

A: I love the sense of community at Orange Shoe and how open everyone has been to be training with me and letting me be a part of their fitness journey. I also love learning more about each individual, it helps me become a more well-rounded person, as well as a better trainer!